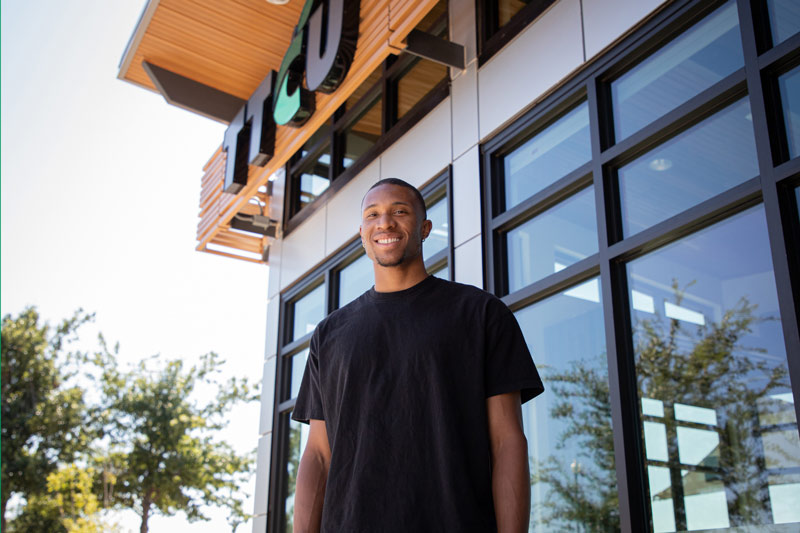 Name: Alex
Home branch: Edmond
Member since: 2016
For twenty-four-year-old Alex, TTCU has been with him through a lot of firsts: first job, first savings account and first retirement account. Alex's mom signed him up for his first TTCU account when Alex was a student at Sapulpa High School. She wanted him to have the advantages of a credit union account, since credit unions look out for their members. It gave Alex a place to start saving money and preparing for his future.
He enrolled in the University of Central Oklahoma and played basketball there. Now, he's attending pre-requisite classes at Oklahoma City Community College while he prepares to pursue a graduate degree in occupational therapy. Alex was excited when TTCU opened branches in Edmond, as it meant he'd be closer to his credit union.
"I'd rather speak with someone face-to-face," Alex said. "I like how family oriented TTCU is. They have very friendly staff."
TTCU staff encouraged Alex to open a money market account for his savings and stressed the importance of investing in the future. They connected Alex with Regent Financial Services, Inc., a TTCU partner, to open his first Roth IRA.
"(The TTCU staff) prepared me for the future, with getting a rainy-day fund, and helped with my financial understanding."
Alex also appreciates how TTCU gives back within the communities it is in. He's a proud owner of a Sapulpa School Pride® debit card, where TTCU gives back to Sapulpa schools every time it's used. He enjoys spotting the TTCU logo around Edmond as well.
"It's tremendous how TTCU familiarizes itself with the community and gets involved," Alex said.
In TTCU, Alex says he's found a partner for his financial future.
"I can grow with them," he said.