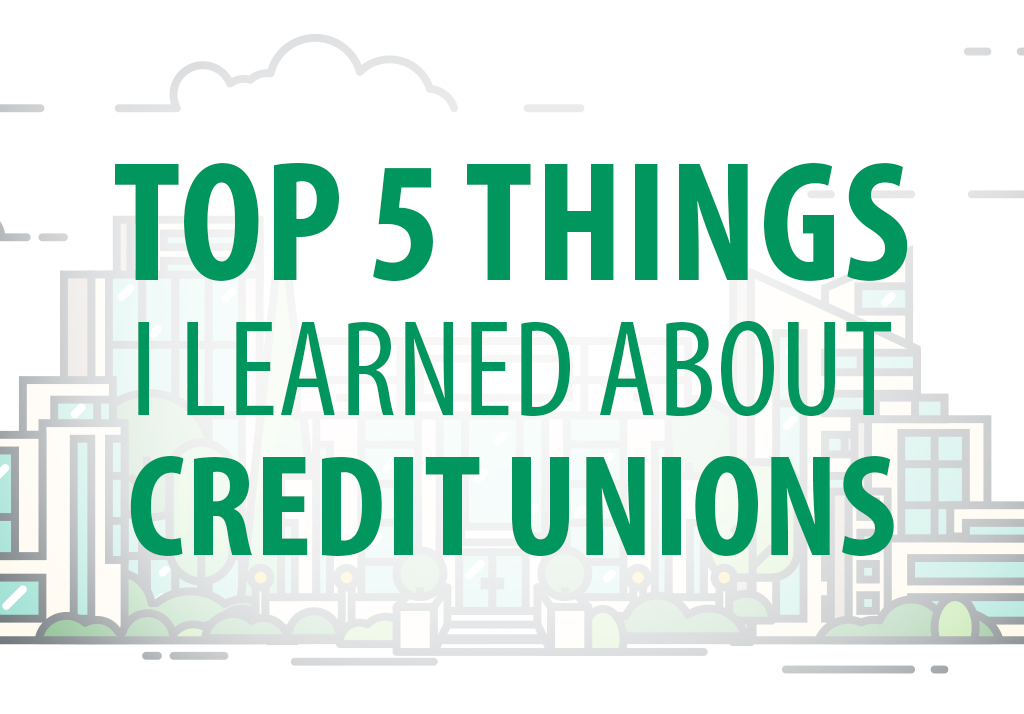 Top 5 things I learned about credit unions
Can you keep a secret? When I came to work for TTCU, I knew absolutely nothing about credit unions. I had a lot of questions and so much to catch up on! I knew that credit unions were like banks, but different. What was the difference? Which was better? I assumed that credit unions were mostly local, but was that good for people who travel? Like I said, I had a lot I didn't know...
Update. It's been eight months. I've surfed the learning curve, completed some training and am here to provide some insight into the top five things I've learned.
1. What is a credit union and how does it work?
Get this. When you think of a financial institution with more than $2.5 billion in assets, you might assume that it's run by a bunch of stuffy executives. Think again! Credit unions like TTCU are not-for-profit businesses that are 100% owned by members. Yep, you read that right. When you open a checking or savings account, you become a part-owner and earn member dividends.
2. Is a credit union better than a bank?
Credit unions are not-for-profit institutions, which means that company decisions are focused on benefiting members, not a small group of stockholders. At a credit union, members earn dividends from profits.
It's not their fault. Banks are profit-driven by design. Unfortunately, it's the customers of a bank that take the hit via account fees, higher loan rates and less return on savings. On the other hand, credit union members often experience lower loan rates and a higher return on their savings.
Credit unions have heart. "People helping people" is one of the seven cooperative principles of credit unions. In reality, it is the motto for all of them. In comparison, credit unions often choose to give back to their communities through volunteering and financial contributions. Check out our TTCU Cares Foundation!
Credit unions offer shared branching. Big banks may have more locations, but credit unions work together to form a much larger network. For example, TTCU is a part of the CO-OP Shared Branching network, a group of more than 5,700 credit unions across the U.S. where you can conduct business. That's handy when you're traveling. So, when you become a member of one credit union, you have access to thousands of locations!

3. Is it safe to trust a credit union with your money?
Fear not, fellow question-askers. Yes, a credit union is absolutely safe! Not only is it safe to trust a credit union with your money, credit unions are federally insured by the National Credit Union Association (NCUA). This U.S. government agency insures your deposits up to $250,000.

4. Is a credit union easy to join?
The answer is a resounding, yes! At TTCU, there are many ways to become a member - whether you have educational ties or are a member/employee of any of our affiliated groups.
5. Are credit unions able to keep up with the rest of the financial world?
Some may think of a credit union as a small-town gig, but credit unions like TTCU offer the same types of services as any major financial institution. TTCU carries a wide range of checking and savings accounts to choose from. CashBack credit cards are available. Members have saved tons with auto refinancing. Auto, RV, boat and home loans are offered at competitive rates. Plus, members can easily access their accounts on their smartphones with mobile banking.
I hope this insider information helps answer a few questions of your own. If you like, share this article with a friend. As always, if you have any questions about credit unions or accounts and services - we're here to help!