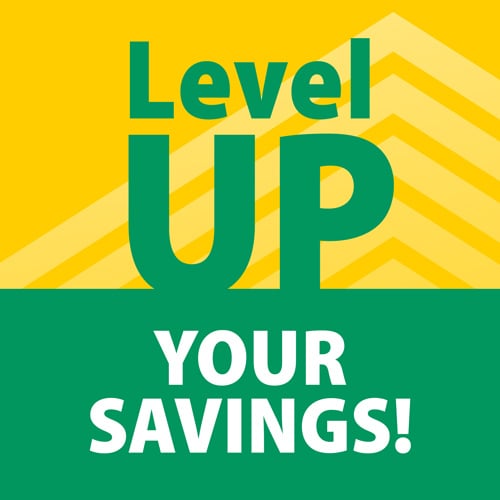 Grow your savings faster with a TTCU LevelUp account
This month, our Savings Series is all about an easy way to boost your savings with a TTCU LevelUp account.
Here's the breakdown:
TTCU debit card purchases are automatically rounded up, then the change gets deposited into your LevelUp account.
It pays 3% APY*, a much higher rate than a standard savings account.
It's meant to supplement your main savings account, so you can't transfer in additional money.
Also, any dividends from Member Rewards will automatically be deposited into open LevelUp accounts.
Members that have debit cards on multiple checking accounts may have a LevelUp account attached to each one.**
To further highlight the benefits of this account, I reached out to two TTCU branch managers who help members open them every day – Sierra L. (Midtown) and Pam M. (Owasso).
How would you describe a LevelUp account?
Sierra: A LevelUp account only receives deposits via Member Rewards dividends or rounding up your purchases on your debit card. Then, you're able to withdraw as needed.
Pam: There are no qualifications. Anyone who has a checking account with a debit card can participate. It's a free account - no fees or charges. We call it a "digital change jar."
Why would you recommend a LevelUp account?
Sierra: It allows you to save money without having to think, and it pays higher dividends than a normal savings account.
Pam: It's a passive way to save. Small round-up deposit funds can accumulate quickly and the 3% yield is a great rate on funds that have no withdrawal restrictions.
What are the key benefits of a LevelUp account?
Sierra: (You're able to) save money quicker and without having to consciously do it. Next thing you know, you have money available to fund emergencies or unexpected expenses.
Pam: It's an easy way to save, you earn a higher yield on deposits, there are no restrictions on withdrawals – plus, it's free!
Anything else you'd like to share?
Sierra: If you have a checking account, you would be silly not to have a LevelUp account. The benefits are instant!
Pam: It's a great product for frequent debit card users – you can see how quickly even small deposit amounts can accumulate.

Interested in giving your savings an easy boost?
We'd love to help you open a LevelUp account. As always, we're here to answer all your questions and get you into the account that works best for you.
Visit any branch, today!