TTCU CEO to lead 2021 United Way campaign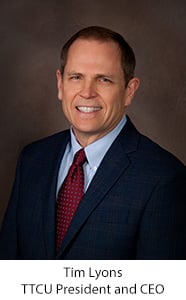 TTCU President and CEO Tim Lyons was named co-chair of the 2021 United Way campaign, along with District Two County Commissioner Karen Keith.
"Despite the uncertain times we are living in, we can be certain that their leadership will position the United Way and the entire Tulsa area community for success," said Alison Anthony, President and CEO of Tulsa Area United Way.
Campaign Chairs give leadership and direction to the current year's campaign efforts, mobilizing more than 30,000 donors and over 1,000 companies that run workplace campaigns. The chair leads the way in building, organizing and managing a successful volunteer campaign team.
"I believe strongly in giving back to my community," Lyons said. "During times of economic uncertainty, the safety net that United Way and its partner agencies form is more crucial than ever. I'm so pleased to partner with Karen in leading the 2021 campaign."
Lyons is a strong advocate for educational and community causes, serving on the boards of the Tulsa Area United Way, David Temple Foundation, Tulsa Community College Foundation, Oral Roberts University and Tulsa Regional Chamber.
He brings that same vision to his role at TTCU, ensuring TTCU's support of education in Oklahoma. In 2016, under Lyon's leadership, TTCU spearheaded Support our Schools, which generated over $2.8 million for Oklahoma school districts. Lyon also worked to start the School Pride debit card program, where a percentage of each transaction is donated back to the schools, resulting in over $1 million donated to local school districts since the program's inception.