The latest edition of our Modern Money Newsletter is available! This quarter's member newsletter features stories about TTCU members, updates on services and current promotions.
You'll also find a message from our President, TTCU stats, advice from our experts and a whole lot more! If you haven't seen it in your statement, check it out online ( flip-book | print-friendly pdf ).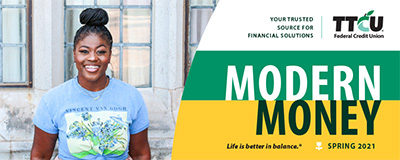 Here are some of the topics you'll find in the Spring edition of Modern Money:
Meet A Member: A happy birthday after all
Get 5% back on home improvement purchases
A message from our President
Level UP your savings
Your child could win $100 in April
From our Blog: Every Cent Counts
Ask an Expert: Tapping into your home's equity
Did You Know: Voice Banking
Member Rewards payouts, stats and more
Flip through the latest edition of our Modern Money Newsletter using the window below or link to either version above. For a larger display window, click the full-screen button in the bottom, right corner.