The latest edition of our Modern Money Newsletter is available! This quarter's member newsletter features stories about TTCU members, updates on services and current promotions.
You'll also find a message from our President, TTCU stats, advice from our experts and a whole lot more! If you haven't seen it in your statement, check it out online ( flip-book | print-friendly pdf ).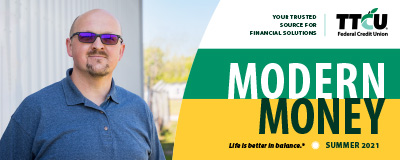 Here are some of the topics you'll find in the Summer edition of Modern Money:
Meet A Member: From Panic to Hope
Get 5% back on restaurant and entertainment purchases
A message from our President
Refinance your vehicle and save
Would your teenager like an extra $50?
From our Blog: Supermodel Parents
Ask an Expert: Online security
Project School Supplies celebrates 20 years
Member Rewards payouts, stats and more
Flip through the latest edition of our Modern Money Newsletter using the window below or link to either version above. For a larger display window, click the full-screen button in the bottom right corner.