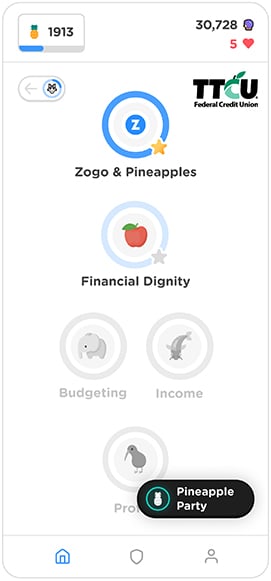 Zogo is a mobile app that takes an innovative approach to teaching about money


TTCU Federal Credit Union has partnered with Zogo, a leading financial technology company, to bring Zogo's app to Oklahoma.
"Zogo turns financial learning into a game and rewards users with gift cards for learning about financial topics," said TTCU Vice President of Marketing Donita Quesnel. "It's an exciting new approach to helping people learn about personal finance so they can make good decisions about money."
The app, which was developed by a group of Duke University students, guides teens and adults through 300+ bite-sized financial educational modules. As users successfully answer questions, they will accumulate points that they can redeem for gift cards and other rewards.
Eighty-four percent of teens say they look to their parents for information about money, according to a study by Junior Achievement. However, parents often feel unprepared to play this role. In a survey by EVERFI, only 43 percent of parents felt they were "well prepared" for money conversations. As an alternative, T. Rowe Price reports that 3 out of 4 parents think financial apps are a good way to teach about financial matters.
"Growing up, we didn't have good experiences learning about personal finance," added Bolun Li, CEO and co-founder of Zogo. "With Zogo, we wanted to create a financial education experience our peers would actually use. We are excited to partner with TTCU Federal Credit Union to bring this vision to life."
The Zogo app is now available at no cost to both TTCU members and non-members. Download the mobile app from the Apple App Store or the Google Play Store and use the access code "TTCU" to begin. .
Message and data fees may apply from your wireless carrier. Zogo is a registered trademark of Zogo, Inc. Zogo, Inc. is a third party app that is not owned or operated by TTCU. Certain restrictions may apply, please see Zogo, Inc. in the app store for more information and their privacy policy. Apple logo is a trademark of Apple Inc., registered in the U.S. and other countries. App Store is a service mark of Apple Inc. Google Play is a trademark of Google Inc.