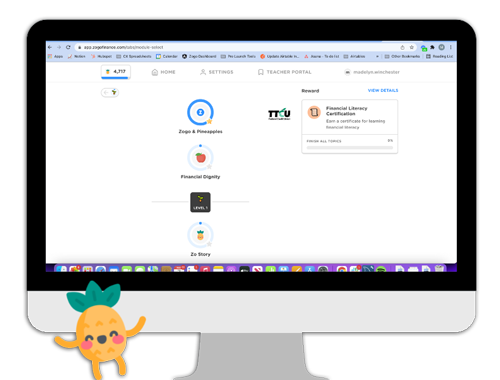 We have partnered with Zogo Classroom to provide financial literacy tools to teachers in the state of Oklahoma at no cost to the schools. Zogo Classroom is an online platform that makes learning about financial literacy like a game, complete with fun, engaging graphics. It allows students to test their knowledge by walking them through real-world situations surrounding personal finance.
"We're excited to continue our partnership with Oklahoma schools by providing a new option for teaching financial literacy in the classroom," TTCU President and CEO Tim Lyons said. "Zogo Classroom has a fun, fresh feel that will appeal to students and teachers alike."
Zogo Classroom provides flexible, bite-sized content that can be dropped directly into existing lesson plans or used to build something new. It has student progress tracking tools built into the app and allows teachers to create a classroom leaderboard.
"I would tell any teacher considering Zogo Classroom that our platform is built to meet students where they are," said Bolun Li, founder and CEO of Zogo. "In this increasingly digital world, where attention spans feel shorter than ever, Zogo Classroom is a tool that will not only teach students the critical skills needed to succeed as an adult, but it will also keep them entertained and engaged."