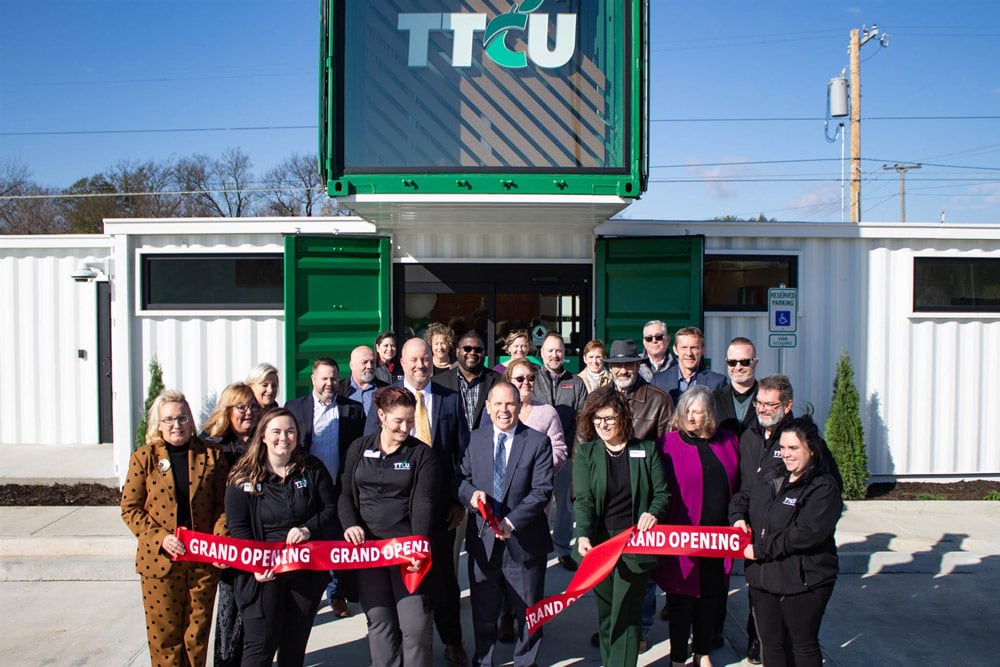 We celebrated cutting the ribbon on a new branch in Pryor with a $5,000 donation to Pryor Public School District on Nov. 16. TTCU's newest branch features a modern construction concept using refurbished shipping containers. Featuring large upper skylights to let in light and modern finishes to create a welcoming space, the 900-square foot branch will utilize cutting edge technology. The branch will offer the full suite of TTCU services, including Interactive Teller Machines, that allow members to complete simple transactions using video technology to interact with an offsite teller.
Staff will be available to assist members both with the technology and with finding the right products and services to meet their needs.
The donation to Pryor Schools will be used to support the Pryor High School Success Center, which aids any students needing help, with a primary focus on those at risk of not completing high school. The success center combines academic assistance, student support with basic needs, personal and professional growth and post-secondary assistance.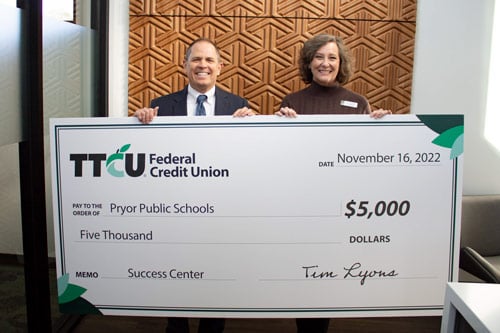 By focusing on the whole student, the Center is equipped to help with any issues students may have. Frequently used services include tutoring, ACT test prep, resume help, mock interviews and a clothing closet for those in need.
"This donation to Pryor Public Schools continues a relationship that has been important to us for a long time," President and CEO Tim Lyons said. "We introduced a Pryor School Pride® debit card in 2009 – where every time a member uses it, we donate to their school – and with the opening of our new branch, we look forward to being a part of Pryor's future."
The branch – slated to open Nov. 21 – will be part of TTCU's network of locations serving communities in Oklahoma. The branch was designed by GH2 Architects LLC and built by LD Kerns Contractors, Inc and is located on Mill Street near the center of town.