"I've always had great customer service with TTCU."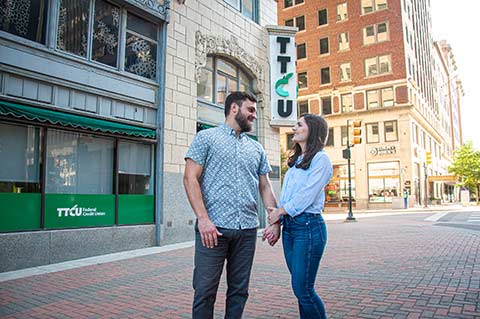 Name: Seth and Ashley P.
Home branch: Downtown
Member since: 2015
First comes love, then comes marriage, and then, for Seth and Ashley, came the joint bank account. When Seth and Ashley got married this last year and began combining their lives, they also wanted to combine their money. They began looking around for the perfect financial institution for their new joint accounts.
"We actually did it on Valentine's Day, so I guess that says love to us," Seth said. "We had a nice lunch, then went down to the (downtown TTCU branch)."
They chose TTCU for several reasons. Seth had experience with TTCU thanks to an auto loan. When he first started shopping for a new vehicle back in 2015, TTCU hadn't even been on Seth's radar. But when his financing with another institution fell through, the dealership helped him get a loan with TTCU for a Dodge Ram.
"It had an even better interest rate than the other loan, so that worked out well," Seth said. "And I've always had great customer service with TTCU, so eventually I got a checking and savings, too."
They also both worked in downtown Tulsa, so they were looking for a financial institution with a convenient downtown location. They decided to build their future with TTCU.
"It was an effortless, easy experience switching (financial institutions)," Ashley said. "And TTCU's app has really helped us with budgeting – it's easy to see where our money's going."
As a newly married couple, they began working on their financial goals. First, they paid off their vehicle loans, then their next financial priority was to build an emergency fund. They look forward to buying their own home someday and having children, and see TTCU as their financial partner through strong economic times and downturns.
"With everything going on in the world right now, we're seeing the importance of having six to eight months income in reserve," Ashley said.